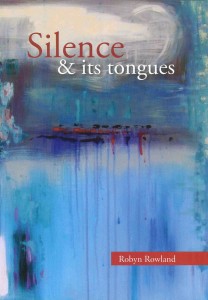 (Five Islands Press, 2006)
Fired by a yearning for communication, the poems in Silence and its tongues grow from experiences of loneliness,absent love, the silent world of depression and the complex issues after a mother's death, into the peace of silent meditation and the strength of friendship. They comfort in their honesty and their urgent need to find meaning, crafted from strong metaphor, a deep engagement with landscapes in Ireland and Australia, and a lyrical instinct.
Much of Robyn's work has evolved around issues of exile and belonging. But this new book does not dwell on exile. It is a book that moves from experiences of intense loneliness, through 'the Dark' of depression and into the light. It contains the confronting dual- sequence 'Dead Mother Poems', dealing first with the death of a mother and the caring by her daughter; then the realisation 15 years later of the burden of that relationship for the daughter and the effect of depression in the mother who was both invasive and rejecting. Powerful in its evocation of anger and forgiveness, Beverley Farmer in launching the book said:
'These poems are at once homely, stark and surreal (and in that they true to the nature of grief, in my experience). There's the indomitable mother who is going under, decaying before our eyes, her past unforgotten and unforgiven, her future cancelled out. And there's the daughter, the hurt and angry child and the betrayed young woman and the older and yes, wiser newly pregnant woman in whom the future is embedded. They are so alike. The very words in our mouths come from our mother. Her death is her last gift. Short or long-drawn-out, the death struggle is not ended when she dies, it is just cut short, leaving us empty-handed. Old demons never die, and while we live, our mothers lurk in the background, in the limbo that is memory. '
In spite of, or perhaps because of, the powerful emotional context of Robyn's work, this book, as with the previous book, have been described as 'deeply consoling'.
To read reviews of this book, please click here.